Packaging + Brand Concept + Copywriting + Identity + Product Photography 
Student / Cornish College of the Arts
Design recyclable packaging for a new olive oil marketing consumers ages 21-35 years of age.
The target demographic for Stella Marie Olive Oil is 18-34 year old's who are on a budget but are still looking for a unique experience. The target demographic is conscious of the waste they produce, so they look for products with recyclable or compostable packaging. The outer packaging is recyclable thick kraft paper, and the tube is recyclable aluminum cap with glass tube. Recycling symbols on outer shell indicates how to dispose of all parts. This extra virgin olive oil is infused with flavors inspired by perfume notes and as a result work best as dipping oils. The small net weight allows for a cheaper price point rather than committing to a large or expensive bottle of an unconventional flavored oil. The size makes this olive oil great as a gift, sampler size or a snack between friends at a small house party. 
Before the conceptual presentation was established, I sketched out possibly logo directions and rough packaging form ideas.
Below is the conceptual presentation stating a persona meant to paint a picture of the Stella Marie target demographic, visual direction moodboards, outer packaging ideas, logo sketches and logo type inspiration. 
The first visual direction was black and white with an overall sophisticated design whereas the second visual direction was full of organic shapes and a colorful color palette. In the end, I went with the more sophisticated direction with three pops of color meant to signal flavor. The logo type idea influenced the final logo type chosen. The first packaging idea for glass tubes influenced my choice of packaging form.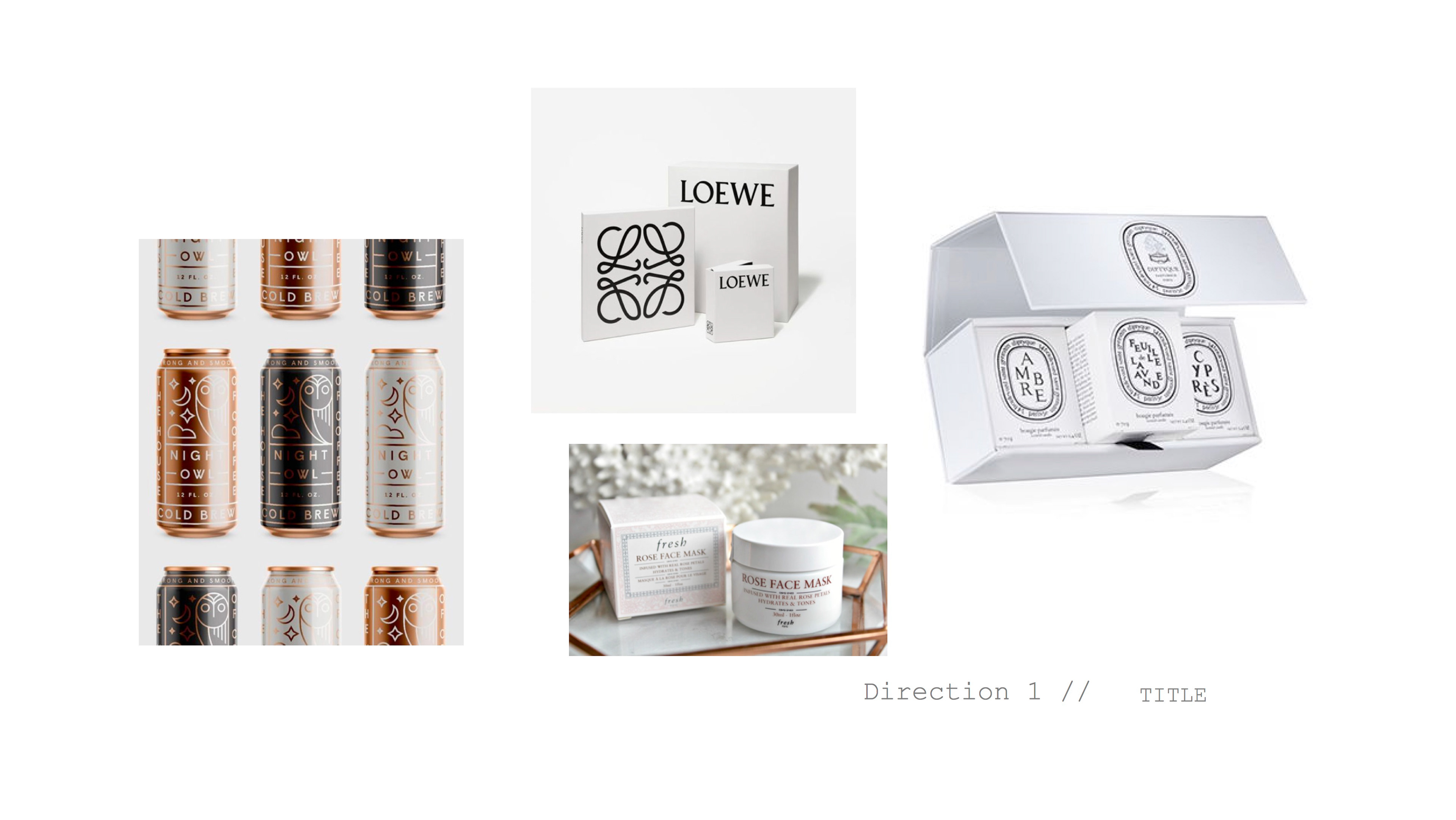 ​​​​​​​




Competitive Research
Before starting on any packaging rough drafts, I need to be sure of what surface I will be working with. Form influences the design due to shape, surface area, and visual real estate on each side/view point.
I went out to look at competitive product to get a sense of price, bottle shapes, net weights, sets and most of all packaging ideas (the form). Below are some photos of competitive product.
A working process of how I mocked up the packaging which includes the outer container downsize, labels, vinyl application on glass and more.